How to get Brazil Visa on Pakistani Passport?
Brazil offers different types of visas to Pakistani citizens, including tourist visas. First we need to fill and print the online form, then submit the visa application in-person to the Brazilian embassy or consulate with all required documents after taking appointment by email or phone. Interview is mandatory and will be held by Consular Officers in the Consular Section of Embassy or Consulate.

Required Documents
Covering Letter
Visa request letter with travel plan.
Visa Application Form
Duly filled, printed and signed visa application form. Paste passport-size photo on form after print out. Online Form
Photograph
Two recent passport-size photos with white background.
Original Passport
Passport must be valid for at least six months and have at least two blank pages.
Passport Photocopies
Copy of passport on A4-size paper (do not cut down the paper).
CNIC
Copy of CNIC on A4-size paper (do not cut down the paper).
Letter from Employer
Letter of employment, which should include your position, salary, hire date and the approved leaves from office.
Bank Statement
Original last six months bank statement with account maintenance certificate.
Flight Reservation
Two way flight reservation only of your trip.
Hotel Reservation
Hotel reservation of your entire period of stay.
FRC
Original FRC (Family Registration Certificate) attested by Ministry of Foreign Affairs.
Birth Certificate / MRC
Birth Certificate (if not married) or Marriage Certificate (if married), attested by the Ministry of Foreign Affairs.
Police Character Certificate
Original Police Character Certificate attested by the Ministry of Foreign Affairs.
Bank Deposit Slip
Original Visa Fee Bank Deposit Slip.
Invitation (If Applicable)
Participants of academic conferences, seminars and congresses must provide invitation letter from the organization that is sponsoring the event.
Underage/Minors
Minors under 18 years of age are required a notarized letter of consent by the parent not traveling with the minor, or by both parents if the minor is traveling alone.
Click Here to know additional requirements because of covid and latest announcements.
Visa Fees
Tourist Visa: $80 USD
Note: Visa fee must be deposited in Embassy's bank account. Visa fee can be changed at any time.
Click Here for bank account details and visa fees.
Processing Time
20 working days, in some cases may take longer. Plan your trip accordingly.
Apply as early as possible within three months of your travel.
Brazil Embassy in Islamabad
Phone: (051) 2287198 / Fax: (051) 2287199
Visa Section: (051) 2287189 / (051) 8316332
E-mails: consular.islamabad@itamaraty.gov.br
Timings: 09:00am – 05:00pm (Mon-Thu)
Address: House No. 1, Street No. 72, Sector F-8/3
Website: Click to Open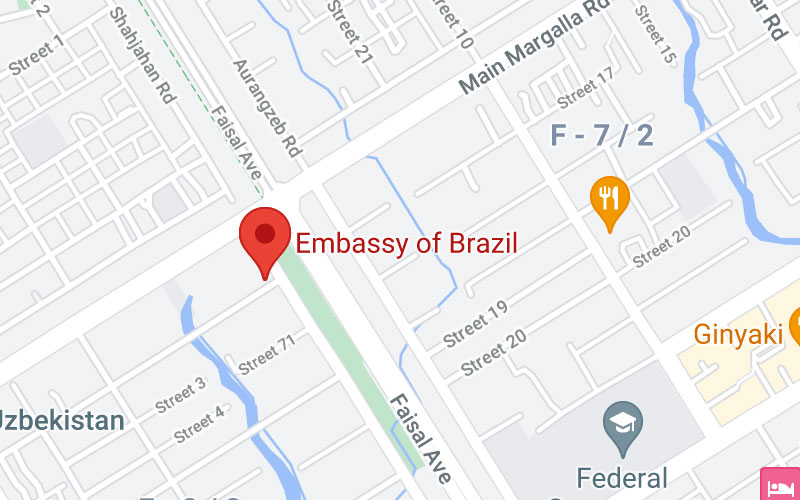 ---
Short Intro of Brazil
Brazil country, officially the Federative Republic of Brazil, is the largest country in both Latin America and South America. Brazil covers an area of 8,515,767 square kilometres with a population of over 211 million. Brazil is the fifth largest and sixth most populous country in the World, composed of 26 states and the Federal District. Brazil is the largest country to have Portuguese as an official language and the only one in the Americas.
Capital: Brasilia
Dialing code: +55
Currency: Brazilian real
Cities of interest: Brasília, São Paulo, Rio de Janeiro, Brasília, Salvador, and more
Official language: Portuguese
Tourism in Brazil
Brazil offers for both international and domestic tourists with a lots of options, with natural areas being its most popular tourism, a combination of recreation and leisure, mainly beach and sun, and adventure travel, as well as cultural and historic tourism.
Places to See in Brazil
Brasília
São Paulo
Rio de Janeiro
Brasília
Salvador
Fortaleza
Belo Horizonte
Manaus
If you have short time then you can visit any of above in bold text.
---
Travel Tips
Free Hotel Booking
Watch this video to know how to get Free Hotel Booking or Reservation for Visa Processing.
---
Cheapest Flight Ticket
Watch this video to know how to find Cheapest Flight Ticket for any City of any Country.
---
If you have any other questions, please let me know in the comments section below. And share this information with your friends and family if you want.