How to get Cambodia Visa on Pakistani Passport?
Cambodia visa can be obtained with two ways on Pakistani Passport.

1) Cambodia offers eVisa service to Pakistani citizens, which is easy and fastest way to get Cambodia visa. To obtain Cambodia eVisa and to know eVisa requirements please visit their Official Website.
2) There is no Cambodia Embassy in Pakistan but still Cambodia sticker visa can be obtained from third country. If you are traveling to any country for tourism or business purpose, you can obtain Cambodia visa from that country, for example, if you are traveling to Thailand or Malaysia then you can submit your visa application in Cambodia Embassy in Bangkok, Thailand or Kuala Lumpur, Malaysia.
Required Documents for Sticker Visa
Covering Letter
Visa request letter.
Visa Application Form
One visa application form filled completely. Visa form can be obtained from embassy.
Photographs
Two recent color passport size photographs.
Original Passport & Copies
Original current Passport with six (06) months' validity, with minimum 2 blank visa pages. Copy of first page.
Letter from Employer (if any)
Reference Letter from the applicant's present employer/office, describing applicant's job duration of service, income etc.
Air Ticket
Copy of return or onward flight ticket.
Hotel Booking
Copy of hotel booking.
ID Card
Copy of valid national identity card (CNIC) or local ID Card.
Visa Copy of Present Country
For example, If you are applying from Thailand then attach copy of Thailand work or tourist visa.
Business Registration (for business visa only)
Business Registration Certificate.
Visa Fees
Tourist/Business Visa (Single Entry): USD: $40
Note: Visa fee can be changed at any time.
Processing Time
Up to three working days.
In my case: I got Cambodia visa from Cambodia Embassy in Vientiane, Laos. Usually they take three working days for visa processing but they were busy in an ongoing conference so they asked me to collect passport after one week. After one week I collected my passport with Cambodia sticker visa.

You can obtain sticker visa from Bangkok, Thailand or Kuala Lumpur, Malaysia.
Cambodia Embassy in Kuala Lumpur, Malaysia
Phone: +60 3 4257 1150
E-mail: camemb.mys@mfa.gov.kh
Timing: 10.00 am – 05.00 pm (Monday – Friday)
Address: Jalan U Thant, Taman U Thant, 55000 Kuala Lumpur, Wilayah Persekutuan Kuala Lumpur, Malaysia
Website: Click or Tap Here to Open Website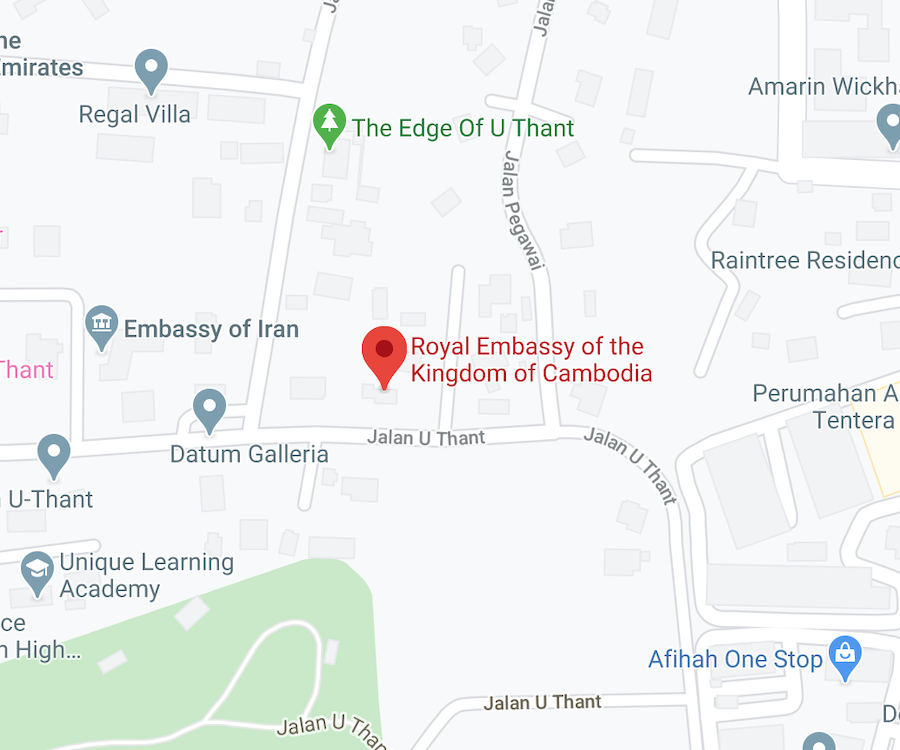 ---
Short Intro of  Cambodia
Cambodia is a Southeast Asian nation whose landscape spans low-lying plains, the Mekong Delta, mountains and Gulf of Thailand coastline. Phnom Penh, its capital, is home to the art deco Central Market, glittering Royal Palace and the National Museum's historical and archaeological exhibits. In the country's northwest are the ruins of Angkor Wat, a massive stone temple complex built during the Khmer Empire.
Capital: Phnom Penh
Dialing code: +855
Currency: Cambodian Riel / US Dollars also accepted in super markets at tourists' places
Cities/Places of interest: Siem Reap, Phnom Penh and more
Official language: Khmer
Tourism in Cambodia
Tourism in Cambodia is one of the most important sectors in Cambodia's economy. In past few years, tourism arrivals increased by 17.5 percent year on year, with business travelers increasing 47 percent.
Places to See in Cambodia
Siem Reap
Phnom Penh
Sihanoukville
Battambang
Areas to Stay in Cambodia
Siem Reap
Pub Street is well-known for nightlife and perfect place to stay for tourists in Siem Reap. You can find easily budget accommodation to stay nearby.
Phnom Penh
Riverside area is a good place to stay in Phnom Penh. You can find budget accommodation (hotel or hostel) around riverside.
If you have short time then I recommend you above in bold text.
---
Travel Tips
Free Hotel Booking
Watch this video to know how to get Free Hotel Booking or Reservation for Visa Processing.
---
Cheapest Flight Ticket
Watch this video to know how to find Cheapest Flight Ticket for any City of any Country.
---
My Cambodia Travel Experience
I spent twelve (12) days in Kingdom of Cambodia. Six (06) days in Siem Reap and another six (06) days in Phnom Penh. Stay in Siem Reap was great. Phnom Penh was also good but I liked Siem Reap more.
Why Cambodia Refused to Give Entry?
And why Cambodia Forced Laos Immigration to Cancel Exit Stamp on my Passport?
Actually, I was traveling from Laos to Cambodia by road. I was all set, I had single entry sticker visa for both countries Laos & Cambodia. Laos visa has been used and Cambodia visa was to be used at border.
First thing is first, I booked a seat in a bus from a local tour operator a day before and next day they picked me from my hotel in Pakse city in Laos for Laos-Cambodia border. It was about two hours and thirty minutes' drive from Pakse city to border. Finally, I was reached at border and walked to Laos immigration for Exit stamp. Without any question they checked my passport/visa and put exit stamp on my passport. I started walk to Cambodia immigration which was about five minutes' walk from Laos Immigration.
Here starts my bad experience! After five minutes' walk outside Cambodia immigration building, two security officials were performing their duties, they looked at me and asked me "Where are you from?" I answered Pakistan, again they asked, "Do you live in Cambodia?" I answered No, I'm coming for tourism purpose, they smiled, looked at each other and said "Okay Go Ahead!", I predicted there is something they know but I don't!
Well, I was keep moving and reached Cambodia Immigration building, at entrance one official asked me to pay one dollar for some kind of vaccination and I paid. Finally, I reached Cambodia immigration counter and stood in the queue.
Now it was my turn! I gave him my passport. He checked my passport and visa and returned my passport and asked me to "step aside please". It is usual for us due to low passport ranking, wherever we go first time they ask some questions before they give entry to avoid illegal immigrants. So, I was normal and always ready for questions.
After few minutes, one immigration person came out, he took my passport and asked me "Do you have visa or you intend to get visa on arrival which is not available for Pakistani citizens?" I answered I already obtained visa from Cambodia embassy in Vientiane, Laos. He checked my passport and visa and said "Mr. Even you have visa, you can't come Cambodia by border, you have to take a flight because we don't have advance machine on border to check Passport's authenticity". Now I was little worried! I asked him can you please have a look at my passport, it's full of visas and I have traveled many countries, I been Singapore eight times on same passport. He looked at me and said "Still you can't come Cambodia from border and this is our law for some of the countries including Pakistan and this is final."
You know what? My Laos single entry visa was used and Cambodia refused to give entry. I was stuck in "No Man's Land". For a minute I was wondering maybe I will have to stay here for life because no way to go home. 🙂
I explained same to immigration official, he said "That's not a problem". He asked somebody to come with me back to Laos Immigration where I got Exit Stamp on my passport.
We started walking and again same two persons who were smiling when I was coming to Cambodia Immigration, now they were smiling again (episode 2). I had no choice other than smiling back. But I was satisfied at-least I used their toilet in Cambodia :-).
After five minutes' walk we reached back to Laos Immigration building, person who came with me, he explained them the situation and they put cancelled stamp on my exit stamp they put a while ago and I was back to Laos again.After one hour wait at Laos Immigration building, I managed to get a bus for Pakse. I stayed in same hotel and bought flight to Siem Reap for after three days.
Three days later, at Pakse airport I met with two girls same happened to them, they got same canceled stamp on their passports and they were from Morocco. Later, it came to my knowledge that they are doing this with Muslim only!
Upon arrival at Siem Reap airport, Cambodia they asked me to show money, return air ticket and hotel booking then they gave entry.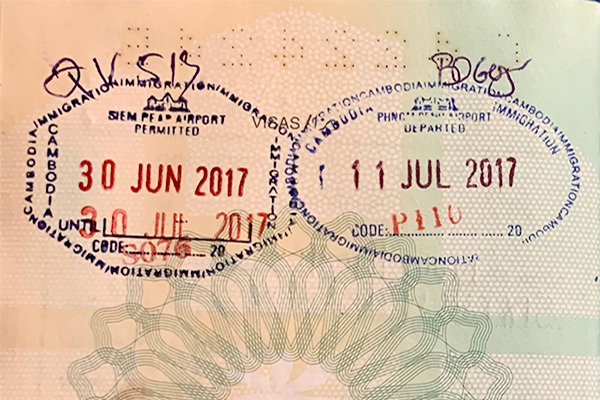 Nobody told me about this prior this experience, not even Cambodian embassy people informed me but I have shared my personal Cambodia travel experience so if you intend to visit Cambodia then better take a flight ticket and fly!
And before you take a flight for Cambodia you must hold $600 per head or $1000 for a family in cash, return/onward confirmed air ticket and hotel/hostel booking.
---
If you have any other questions, please let me know in the comments section below. And share this information with your friends and family if you want.