How to get Turkey Sticker Visa on Pakistani Passport?
Turkey Sticker Visa can be obtained from the Turkish Embassy or Consulate through the authorized Visa Application Center in Three Easy Steps.
Here you will find out Step-by-Step process, how to get a Turkish touristic (tourist) or transit visa.

Step 1: Know Requirements & Prepare Documents
Find out the requirements listed below, including the required documents, visa fees, processing time and prepare your documents.
Required Documents
Visa Request Letter
Visa request letter, mention the purpose of the visit and travel plan Eg: places you will visit in Turkey.
Visa Application Form
Form must be filled online. Link is given in Step-2.
Two Recent Photographs
5x5cm – white background – same must be uploaded online.
Visa Interview Form
This form will be given to you when you submit documents at Visa Application Center.
Original Passports
Original current passport for submission and all previous passports to show them. Current passport must be valid for at least for six months. (If any passport is lost attach attested police report and it's English translation).
Passport Photocopies
Photocopies of all used pages of current and all previous passports.
Travel Health Insurance
Travel health insurance certificate coverage of Euro 30,000 or US Dollars 50,000 and period of stay in Turkey. Don't worry this is not expensive. This may cost you around Rs: 3,000 to Rs: 5,000 only.
Polio Vaccination Certificate
Polio vaccination certificate from the Government Hospitals or authorized laboratories.
Copy of Flight Reservation or Booking
Flight reservation or booking, both sides.
Copy of Hotel Reservation
Hotel reservation only for the entire period of stay.
FRC / MRC
Updated Family Registration Certificate (FRC) or Marriage Registration Certificate (MRC) (if newly married) from NADRA office. (FRC also applicable for individual applicants with parents).
Bank Statement
Original bank statement of the last three (3) months along with account maintenance certificate signed and stamped and not older than 7 days. You must have 4 to 5 lacs in your bank account to obtain a tourist visa.
For Salaried Persons
Last three months' salary slips and Salary Certificate mentioning job title, salary, duration of the employment on a company's letter-head.
For Business Owners
FBR / NTN / Income tax certificates + Business registration documents.
Covid-19 Related
Vaccination Certificate
Travelers must be fully vaccinated with accepted vaccines and proof of verifiable covid-19 vaccination certificate with QR code. Travellers can travel after 14 days of second dose.
PCR Test
PCR test taken within 72 hours before arrival.
If Transiting UAE
If you are transiting in UAE then you need another RAPID PCR test taken on Pakistani airport before your departure for UAE transit.
Visa Fees
Tourist Visa (Single Entry): Rs: 10,000
Tourist Visa (Multiple Entry): Rs: 44,000
Transit Visa (Single Entry): Rs: 10,000
Transit Visa (Double Entry): Rs: 20,000
For a transit visa you must provide confirmed air-tickets and visa for destination.
Note: Visa fee can be changed at any time.
Accepted Vaccines
Pfizer
Moderna
AstraZeneca
Johnson & Johnson
Sinopharm
Click Here for latest announcements and updates regarding covid-19.
Processing Time
It usually takes two weeks but in some cases it takes up to four weeks so apply as early as possible.
Please Note

For Touristic (tourist) visa, you don't need to purchase confirmed flight tickets or confirmed hotel vouchers, they only need reservations to know the travel dates and travel plan. There are many websites they offer cheap hotel and flight reservations. Once visa is issued then you can buy your air-tickets and hotel vouchers.

For multiple entry visa, you need to provide one year travel health insurance coverage equal to 30,000 Euros or 50,000 US Dollars. You can purchase this from any insurance company.

If Embassy or Consulate decides to give you single entry visa then remaining visa fee will be refunded to you.
---
Step 2: Fill Pre-Visa Application Form Online
Form Link: https://www.konsolosluk.gov.tr/visa
Open link above for pre-application visa form, fill out the entire form with all the required information, upload some documents listed on the last page of the form, If you do not have all the information available or do not have any document scanned for upload at the moment, you can save the form and continue later.
Once your pre-applicaiton visa form if completely filled-out and required documents have been uploaded, print your visa application form for submission.
You do not need to scan and upload all documents in the online form, there are only a few documents that you need to upload, eg: Passport, Pay Slips, Bank Statement, Photograph, etc.
---
Step 3 – Submit your Documents
Keep printed visa application form on top of the documents, do not use any kind of paper pin. Try to create another document set for your record.
Bring your documents to authorized Visa Application Center. They will give you an interview form, fill it out, pay the visa fee and their services charges and you're done.
You also need an online appointment but authorized Visa Application Center will take care of it.
Wait for their call, process usually takes two weeks but in some cases it takes up to four weeks.
Embassy and Consulate do not accept direct applications from all applicants, they have appointed and authorized Visa Application Centers to accept the visa applications.
---
Contact Details
Contact details of Turkish Embassy, Turkish Consulate and authorized Visa Application Centers are provided below if you have any questions or concerns.
Turkish Embassy in Islamabad
Phone: (051) 8319800 / (051) 8319810
Fax: (051) 2277671 / (051) 2278752
E-mail: embassy.islamabad@mfa.gov.tr
Visa Section: 9.30am – 12.30pm (Mon-Fri)
Address: Street 1, Diplomatic Enclave, G-5, 44000
Website: http://islamabad.emb.mfa.gov.tr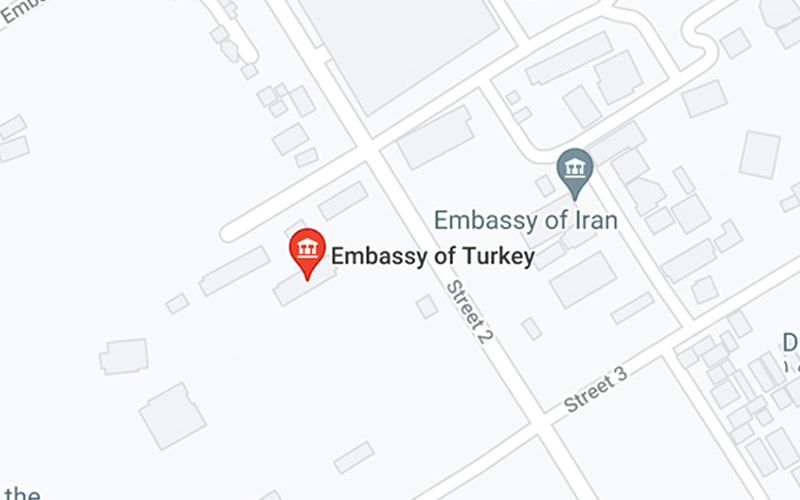 Turkish Consulate in Karachi
Phone: (021) 35839638 / Fax: (021) 35874691
E-mail: consulate.karachi@mfa.gov.tr
Visa Section: 9.30am – 12.30pm (Mon-Fri)
Address: Turkish Consulate General Saba Avenue, ST-18 Block-4 Clifton Karachi – Sindh – Pakistan
Website: http://karachi.cg.mfa.gov.tr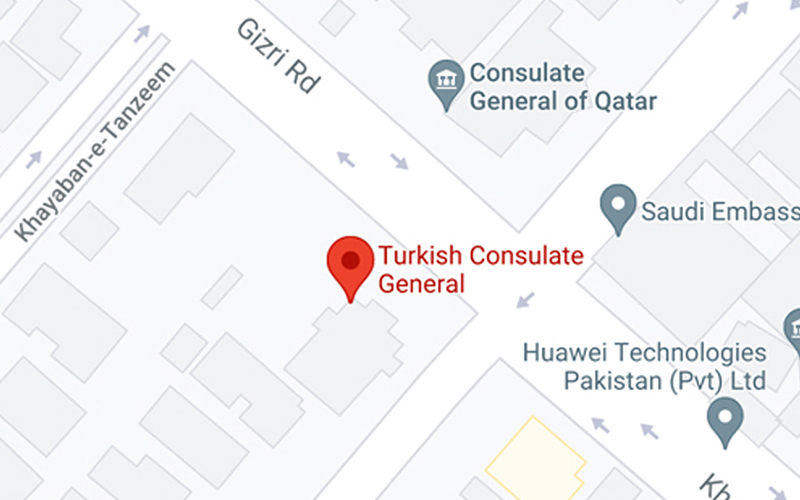 Authorized Visa Application Centers
GERRY'S VISA DROP BOX
From Mobile: (021) 9999
From Landline: (021) 0900-07860
E-mail: feedback@gerrys.com.pk
Regular Timings: 9:00am – 05:00pm (Mon-Fri)
Submission: 9:00am – 01:00pm (Mon-Fri)
Collection: 01:00pm – 04:00pm (Mon-Fri)
Website: www.gerrysvisa.com

ANATOLIA TRAVEL SERVICES
Phone: (051) 2895515-6 / (051) 2895517-8
Phone: (042) 35775446-8 / (021) 35303800-2
E-mail: info@anatoliatravelservices.com
Regular Timings: 9:00am – 05:30pm (Mon-Fri)
Submission: 9:00am – 05:00pm (Mon-Fri)
Collection: 9:00am – 05:00pm (Mon-Fri)
Website: www.anatoliatravelservices.com
Visit the authorized Visa Application Center's website to find the nearest Visa Application Center from your location to submit the visa application.
---
Short Intro of Turkey
Turkey, officially the Republic of Turkey, is a country straddling Western Asia and Southeast Europe. It shares borders with Greece and Bulgaria to the northwest, the Black Sea to the north, Georgia to the northeast, Armenia, Azerbaijan, and Iran to the east, Iraq to the southeast, Syria and the Mediterranean Sea to the south, and the Aegean Sea to the west.
Istanbul, the largest city, is the financial centre, and Ankara is the capital. Turks form the vast majority of the nation's population, and Kurds are the largest minority.
Capital: Ankara
Dialing code: +90
Currency: Turkish Lira
Cities of interest: Istanbul, Antalya, Ankara, Izmir, Konya, Bursa, Cappadocia and more
Official language: Turkish
Tourism in Turkey
Turkey is a fairly safe place to visit as a tourist. More than 45 million tourists visited Turkey in 2019, with the vast majority experiencing no problems and enjoying their wonderful holidays.
The country's most popular tourist destinations, including Antalya, Bursa, Cappadocia, Konya, Istanbul, and Izmir are generally safe. Nevertheless, travelers still need to remain vigilant.
Places to See in Turkey
Istanbul
Cappadocia
Konya
Antalya
Izmir
Bursa
Areas to Stay in Turkey
Istanbul
– Sultan Ahmed Mosque, also known as Blue Mosque, is a popular tourist area and you can find good hotel and hostel accommodation nearby.

– Istiqlal Street is a tourists' hotspot destination and perfect for local food and shopping. Or just hang-around and enjoy the beautiful look and feel.

– Taksim & Taksim Square are always crowded with backpackers and good for local food and travel accommodation.
I've visited all of above but if you have short time then I recommend you above in bold text.
---
Travel Tips
Free Hotel Booking for Turkey
Watch this video to know how to get Free Hotel Booking for Turkey Visa Processing.
---
Cheap Flight Ticket for Turkey
Watch this video to know how to find Cheap Flight Ticket for Istanbul or any other city of Turkey.
---
My Turkey Travel Experience
Sultan Ahmed Mosque (Blue Mosque)
---
Bosphorus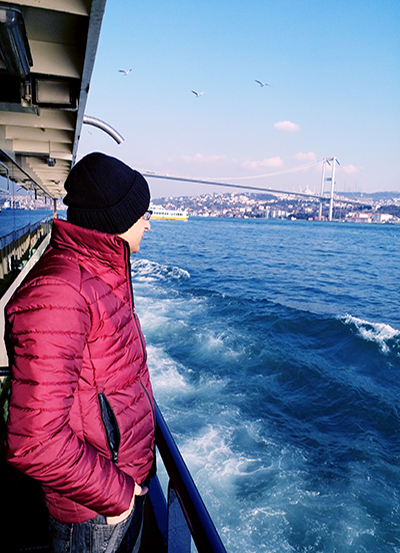 ---
Down Town – Nearby Sultan Ahmed Mosque

---
Stiklal Street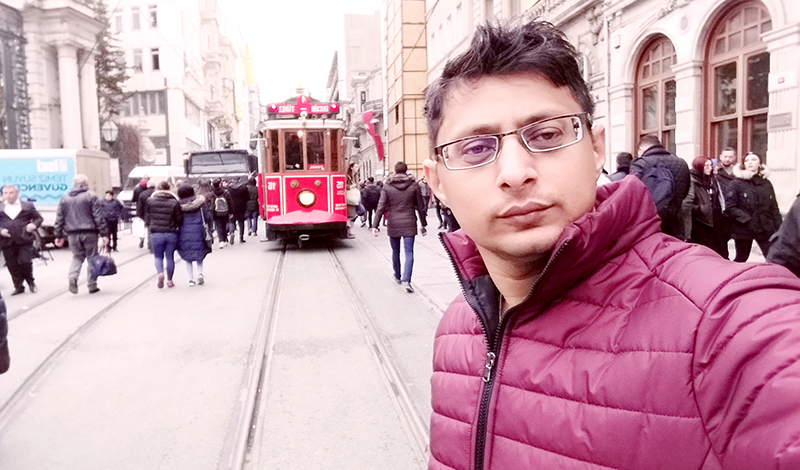 ---
If you have any other questions, please let me know in the comments section below. And share this information with your friends and family if you want.