How to Find Budget Travel Accommodation (Hotel or Hostel) at Perfect Location in any Country?
It's not hard to search for budget accommodation (hotel or hostel) but finding budget accommodation at perfect location could be a challenging job. Because before looking for an accommodation you need to know where exactly to stay at your destination city. Usually city center could be a perfect choice for tourism purpose, from where you can access attractions easily, sometimes even on walking distance you can find attractions.

This guide will help you to find hotel or hostel at cheapest rate and at perfect location of your destination, but before moving forward let's differentiate between hotel & hostel.
Hotel vs Hostel
The main difference between hotel and hostel is that, hotel has individual number of rooms, whereas hostel provides dormitory-like sharing rooms to stay.
If you are feeling you need more privacy, or if you are traveling with family, then a hotel would be a more comfortable option for you.
However, there is a big community feel more comfortable in a hostel compare to a hotel room. If you are a social being, a hostel would be great choice and beneficial as you would be able to meet all sorts of interesting people. Hostel is, for the most part, safe places to stay, as long as you keep your valuable items in a locker. If your budget is tight, or you are looking to meet new people of all different nationalities from around the World, hostel is the best option to stay.
Find a Perfect Location
Always do a little search where to stay at the destination you are intend to go. Look for the city center area and find out tourists' area before you book your accommodation. Always book one or two nights so after your arrival if you don't like place you can easily switch to other one.
Hotel Booking
So, you need more privacy or intend to travel with family. Great!
There are bundles of hotel search engines out there on internet to make reservation but you need to know which hotel search engine is best to use. Here are my recommendations as per my personal experience when I travel with family.
Consider for Hotel Bookings
Booking.com
Combines all hotels and give you cheapest price options. Most of the properties allow to make reservations without credit/debit cards with flexible cancelation policy.
Agoda.com
Offers reasonable rates. Most of the properties are pre-paid, you need to pay 100% when you book. This is good when you need pre-paid vouchers when applying for visas for some countries which require paid hotel bookings, don't forget to look at refund policy, just in-case.
Avoid for Hotel Bookings
Expedia.com
Apparently, looks a good search engine with faster performance for hotel booking, but charges higher price.
Travelocity.com
This is same expedia group and charges higher price on whatever you book through this group.
Hotels.com
Again, same expedia group and charges higher price. Domain & look is different but behind interface using same engine.
I found Booking.com and Agoda.com best hotel booking search engines. Both offer budget hotel bookings. However, fewer search engine are not a good idea. You may need to perform your search on a combination of search engines to ensure you're not missing lowest price.
Hostel Booking
Okay, so you are wondering to consider hostel. Excellent!
I always prefer to stay in hostel when I travel alone.
There are many search engines offer dormitory-like sharing rooms for single bed reservation. The best hostel search engine is HostelWorld.com, HostelWorld charges 10% in advance and balance 90% you can pay in cash or with credit/debit card when you arrive at hostel , you need to check your selected hostel accepts credit/debit cards or not upon your arrival.
Booking.com offers many types of accommodations including Hostel. Some properties offer reservations without credit/debit cards.
Wait a minute, before you book a single bed in hostel you need to know types of rooms they offer, usually most of hostels offer three or four types of rooms as listed below. Also don't forget to look at number of people per room before you select your room eg: "2 beds per room", "4 beds per room", "6 beds per room", "8 beds per room" and so on…
Types of Dormitory (Sharing) Rooms
Male Dormitory Room
For men only
Female Dormitory Room
For women only
Mixed Dormitory Room
For both, both can stay
Private Room
Some hostels also offer private rooms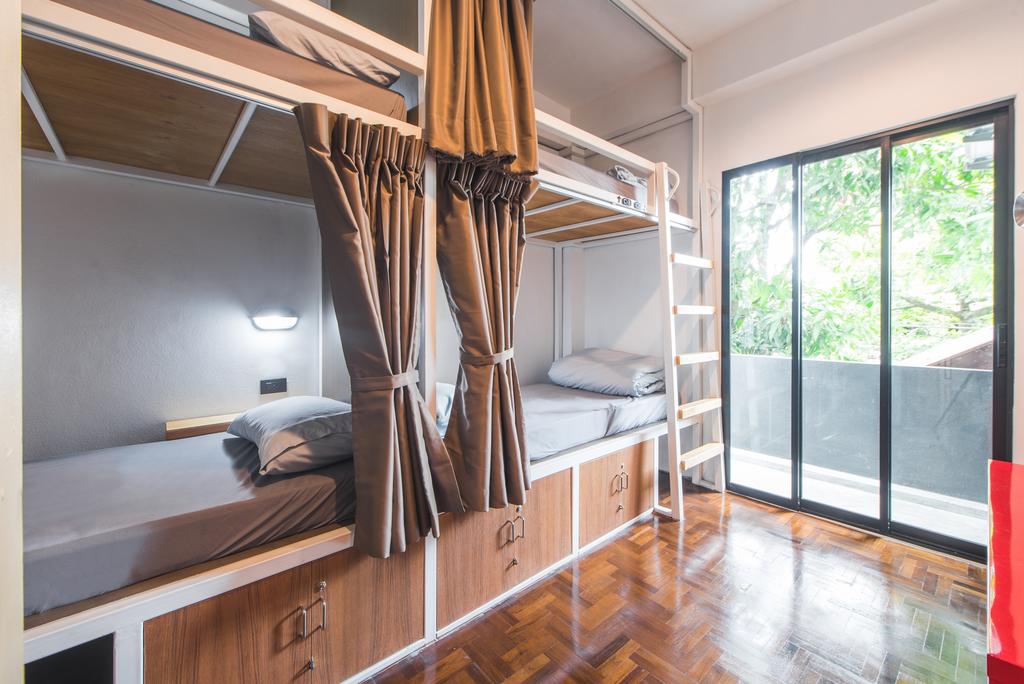 Budget Booking Tips
Prefer Account Booking than Guest Booking
It's always optional to create an account while making a booking, if you go for guest option, you may lose upcoming promotions and discounts, so create an account when you make your first booking and enjoy occasional discounts.
"Show Map" Feature on Booking.com
When you find out your hotel or hostel to stay, before booking, don't forget to click on "Show Map" at top of the page, It will show you all hotels and hostels nearby with prices on map, so you may find more cheapest option. Screenshot is provided just for a reference.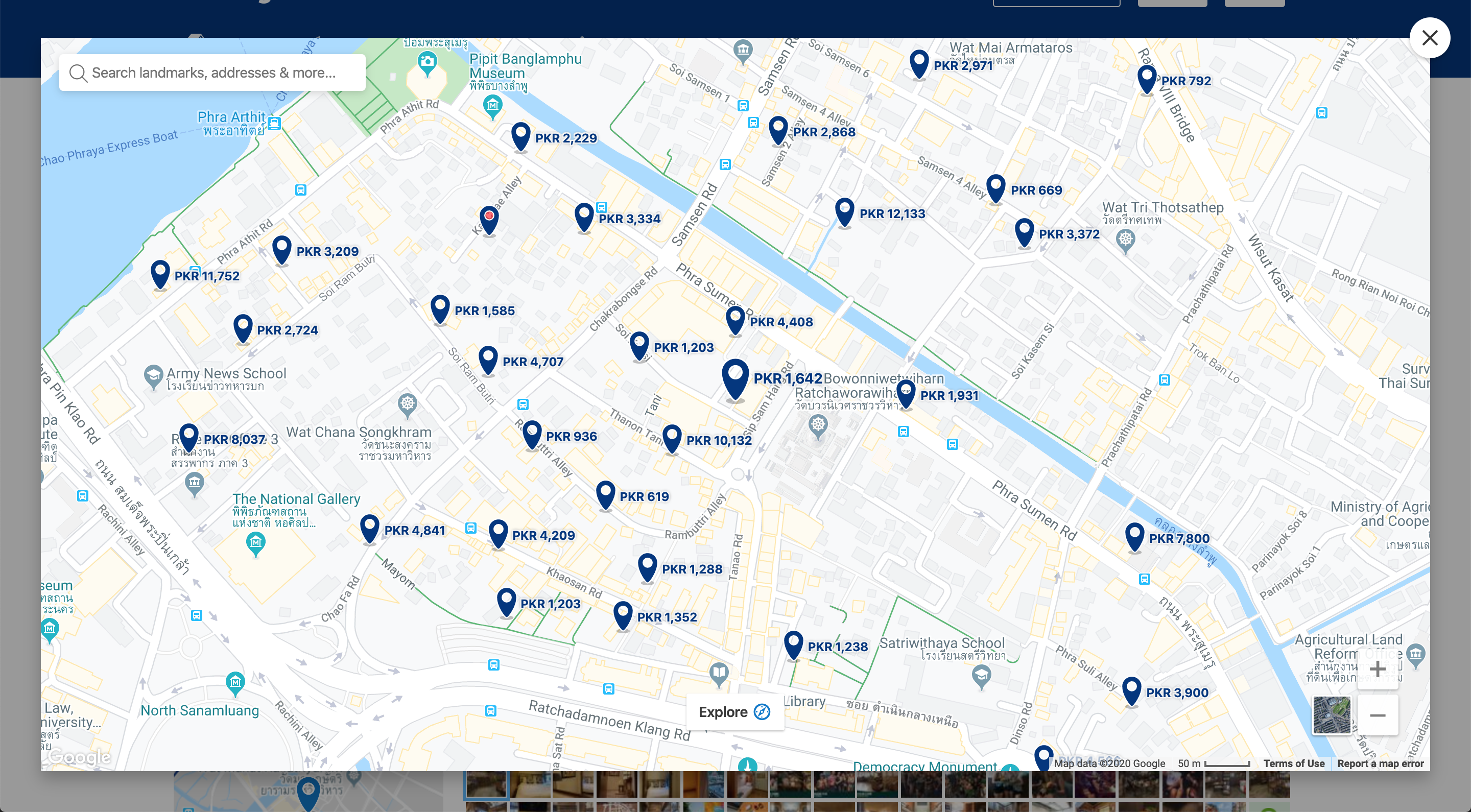 ---
Travel Tips
Free Hotel Booking
Watch this video to know how to get Free Hotel Booking or Reservation for Visa Processing.
---
Cheapest Flight Ticket
Watch this video to know how to find Cheapest Flight Ticket for any City of any Country.
---
My Hostel Stay Experience
Hostel Bed $5 Only Per Night
I got hostel bed at perfect tourists' area Old Quarter in Hanoi, Vietnam for $5 only per night with free breakfast.
---
Hostel Bed $4 Only Per Night
I got hostel bed at perfect tourists' area in the center of Da Nang, Vietnam for $5 only per night with free breakfast.
---
If you have any other questions, please let me know in the comments section below. And share this information with your friends and family if you want.