How to get Argentina Visa on Pakistani Passport?
Argentina tourist visit can be obtained by following few steps as mentioned below. Argentina visa application can be submitted in Embassy of Argentina in Islamabad or through the Authorized Visa Dropbox Centers as mentioned below on this page.

STEP 1: Prepare all required documents as mentioned below.
STEP 2: Submit all documents in Embassy or Authorized Visa Dropbox Center without Original Passport.
STEP 3: If all documents are in order then your visa application will be accepted by Embassy and you will be notified through e-mail or telephone within seven (7) working days after submission of your complete documents for personal interview, after visa application acceptance the applicant must deposit visa fee in the Embassy's bank account and bring the original deposit slip for interview. Please note, Embassy does not accept cash.
STEP 4: Be on time at the Embassy for a personal interview at your scheduled time. Also bring original passport and other original documents with you (if any), which you have not submitted through Visa Dropbox Center.
STEP 5: If your visa application is approved, your passport will be returned to you with visa on same day. The embassy does not keep original passport or any other original personal documents.
Required Documents
Covering Letter
Visa request letter with travel plan.
Visa Application Form
Visa application form filled out (preferably in electronic format) and signed by the applicant. Download Form
Sworn Declaration
Sign the Sworn Declaration/Legal Statement in both English and Spanish. Download Declaration / Legal Statement
Photograph
Two (2) current 4 x 4 cm photographs, facing the camera, printed in colour, on a white background.
Original Passport
Passport valid for at least six (6) months at the time of entering Argentina, with at least two (2) blank pages.
Passport Photocopies
Photocopy of passport first & second page including valid visas on A4 size paper only.
CNIC/ID Card
CNIC copy on A4 size paper.
Letter from Employer
Letter of certification of employment, describing applicant's job duration of service, income etc.
Bank Statement
Last six months original bank statement with account maintenance certificate. Other proof of income (for example, at-least three pay slips or last credit card statement).
Travel Health Insurance
Valid health insurance with coverage of at least 50,000 USD or equivalent in other currency.
Flight Reservation
Two way flight reservation only. Do not purchase tickets before obtaining the visa.
Hotel Reservation
Hotel reservation only OR invitation letter from friend or family with their Argentine ID stating you will stay with them. Sample Invitation Letter
50,000 USD Travel Health Insurance is just a coverage. This is not expensive, this may cost you around Rs: 2,000 to 5,000 only.
Visa Fees
Tourist Visa: $150 USD
Transit Visa: $40 USD
Note: Visa fee can be changed at any time.
Processing Time
Normally up to 21 working days, in some cases this may take longer.
Argentina Embassy in Islamabad
Phone: (051) 8438120
Fax: (051) 2825564
E-mails: consular_epaki@mrecic.gov.ar
Timings: 09:00am – 05:00pm (Mon-Fri)
Address: House 24, Street 18, F-6/2, Islamabad
Website: Click to Open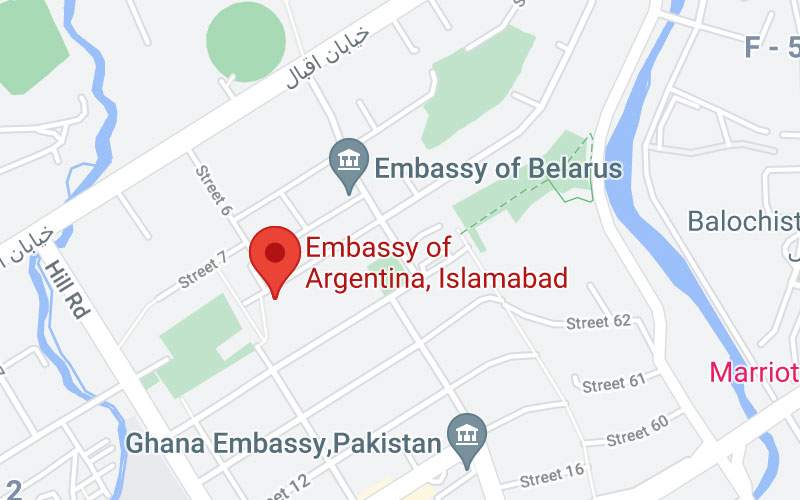 Visa Dropbox Centers
Islamabad: Gerrys Building, Adjacent to Punjab Cash and Carry, Park Road, Chattha Bakhtawar, Chak Shahzad, Islamabad
Karachi: Bahria Complex IV, 4th Floor, Main Chaudhary Khaliq Uz Zaman Road, Gizri, Clifon, Karachi
and 43/1/D Razi Road Block 6, P.E.C.H.S. Karachi
Lahore: 20/20A Opposite Ganga Ram Hospital, Queens Road., Lahore
Peshawar: Deans Trade Center, Saddar Cantt., Peshawar
Gujranwala: 384-A, Beneath Pizza Hutt, Latif Mall, Main Market Model Town, Gujranwala
Faisalabad: 679 Batala Colony, Ghouri Arcade, Main Satiana Road, Saleemi Chowk, Faisalabad
Multan: Business City Plaza, Bosan Road, Multan
Sialkot: 786, Kashmir Rd, Pacca Garha, Sialkot
Sukkur: Unit # C-7, City Bangalow, Shikarpur Road, Sukkur
Quetta: Shop# S-9, Swiss Plaza M.A. Jinnah Road, Quetta
Hyderabad: 3 & 12, Indus Ranches, Ground Floor Near RT Restaurant, Auto Bhan Road, Hyd
Phone: 0900-07860 (from a landline) or 9999 (from a mobile)
Timings: 09:00am – 05:00pm (Mon-Fri)
E-mail: feedback@gerrys.com.pk
Website: www.gerrysvisa.com
---
Short Intro of Argentina
Argentina country, officially the Argentine Republic, is a country in the southern half of South America. Argentina shares the bulk of the Southern Cone with Chile to the west, and is also bordered by the Drake Passage to the south, Uruguay and the South Atlantic Ocean to the east, Brazil to the northeast and Bolivia and Paraguay to the north. Argentina covers an area of 1,073,500 sq miles or 2,780,400 kilometers, making it the largest Spanish speaking country in the world.
Capital: Buenos Aires
Dialing code: +54
Currency: Argentine peso
Cities of interest: Buenos Aires, Mendoza, Ushuaia, Córdoba, Rosario, and more
Official language: Spanish
Tourism in Argentina
Argentina in South America is a land of natural and man-made wonders. From the beautiful glaciers and sky scraping peaks of the Andes to the vineyards of Mendoza and the bustle of Buenos Aires, there is so much to see in this incomparably and dynamic unique nation. There are countless reasons why Argentina is a top destination for tourists and backpackers.
Places to See in Argentina
Buenos Aires
Mendoza
Ushuaia
Córdoba
Rosario
Puerto Iguazu
San Miguel de Tucuman
Puerto Madryn
If you have short time then you can visit above in bold text.
---
Travel Tips
Free Hotel Booking
Watch this video to know how to get Free Hotel Booking or Reservation for Visa Processing.
---
Cheapest Flight Ticket
Watch this video to know how to find Cheapest Flight Ticket for any City of any Country.
---
If you have any other questions, please let me know in the comments section below. And share this information with your friends and family if you want.