How to get Laos Visa on Pakistani Passport?
There is no Laos Embassy in Pakistan but still Laos visa can be obtained from third country. If you are traveling to any country for tourism or business purpose then you can obtain Laos visa from that country, for example, if you are traveling to Thailand then you can submit your visa application in Laos Embassy in Bangkok.

Or If you live in any country other than Pakistan you can obtain visa from country of your residence.
Required Documents
Visa Application Form
One visa application form filled completely. Visa form can be obtained from embassy.
Photographs
Two recent color passport size photographs.
Original Passport & Copies
Original current Passport with six (06) months' validity, with minimum 2 blank visa pages. Copy of first page.
Previous Laos Visa (if any)
Copy of previous Laos visa.
Letter from Employer
Reference Letter from the applicant's present employer/office, describing applicant's job duration of service, income etc.
Bank Statement
One or Three months Bank statement to cover your stay in Laos.
Air Ticket
Copy of return or onward flight booking.
Hotel Reservation
Copy of hotel reservation.
ID Card
Copy of valid national identity card (CNIC) or local ID Card.
Visa Copy of Present Country
For example, If you are applying from Thailand then attach copy of Thailand visa.
Return or onward flight booking is required to submit in Laos embassy to obtain visa. Once visa is issued then you can travel by road or train to Laos-Thailand border, after clearance of Thailand Immigration, you can cross the Laos-Thai Friendship bridge by shuttle for Laos Immigration.
Covid-19 Related
Vaccination Certificate
Currently they are not asking for covid-19 vaccination certification but it's recommended to keep copy of certificate with you for your entire period of your trip.
Visa Fees
Tourist Visa (Single Entry): USD: $50
Note: Visa fee can be changed at any time.
Processing Time
Up to three working days.
Accepted Vaccines
AstraZeneca
CoronaVac (SinoVac)
Johnson & Johnson / Janssen
Moderna
Pfizer
Sinopharm
In my case: I got Laos visa from Laos Embassy in Bangkok within 45 minutes. When I submitted visa application, they asked me to collect Passport on next day but I requested them to deliver same day because I had to go somewhere else in Thailand and I agreed to pay urgent fee, then they asked me to wait. Exactly after 45 minutes they called my name and returned my passport with Laos Sticker Visa.
Laos Embassy in Kuala Lumpur, Malaysia
Phone: +60 3 2148 7059
E-mail: Not Available
Timing: 9.00 am – 05.00 pm (Monday – Friday)
Address: Jalan Damai & Jalan Mesra, Kampung Datuk Keramat, 55000 Kuala Lumpur, Wilayah Persekutuan, Malaysia
Website: Not Available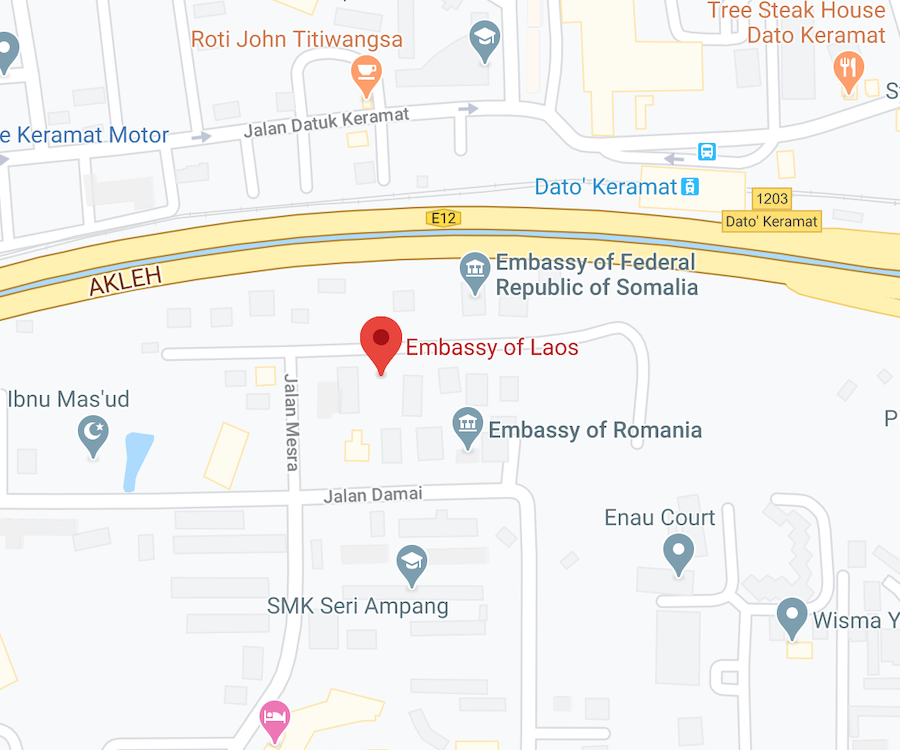 ---
Short Intro of Laos
Laos is a Southeast Asian country traversed by the Mekong River and known for mountainous terrain, French colonial architecture, hill tribe settlements and Buddhist monasteries. Vientiane, the capital, is the site of the That Luang monument, where a reliquary reportedly houses the Buddha's breastbone, plus the Patuxai war memorial and Talat Sao (Morning Market), a complex jammed with food, clothes and craft stalls.
Capital: Vientiane
Dialing code: +856
Currency: Lao Kip
Cities/Places of interest: Vientiane, Kuang Si Falls, Vang Veng, Pakse and more
Official language: Lao
Tourism in Laos
Tourism is the fastest growing industry in Laos. It is governed by a ministry-level government agency, the Lao National Tourism Administration, located in Vientiane.
Places to See in Laos
Vientiane
Vang Veng
Kuang Si Falls
Pakse
Areas to Stay in Laos
Vientiane
Riverside near Night Market is a perfect place to stay in Vientiane. You can find budget hotel nearby.
Vang Veng
Riverside Bungalow is a good choice to stay in Vang Veng. You can find budget bungalow nearby.
If you have short time then I recommend you above in bold text.
---
Travel Tips
Free Hotel Booking for Laos
Watch this video to know how to get Free Hotel Booking or Reservation for Visa Processing.
---
Cheap Flight Ticket for Laos
Watch this video to know how to find Cheap Flight Ticket for Laos, if you wish to travel by air.
---
My Laos Travel Experience
I took overnight train from Bangkok, Thailand for Laos. Train took about twelve (12) hours to reach Thailand-Laos border. After security and immigration clearance at border from Thailand side all passengers need to take shuttle tram service to cross Thai-Laos border via Friendship-Bridge. (Thai-Laos Friendship-Bridge was developed and gifted by Australian government to the people of Thailand and Laos.) Shuttle service took about five minutes to reach Laos immigration. After Laos immigration clearance, van took about fifteen minutes to reach Vientiane city, van dropped everyone at their hotels or nearby.
If you intend to travel to Laos from Thailand by train:
Train Ticket – (Bangkok to Thai-Laos Border)
You can purchase train ticket from Main Railway Station in Bangkok, better purchase ticket in advance. I purchased ticket one day before travel. You can take underground MRT from Bangkok city for Railway Station, no need to take taxi.
Tram Ticket – (Thai Immigration to Laos Immigration)
Tram tickets are available at border. You can get easily.
Van/Bus Ticket – (Laos Immigration to Vientiane city)
Van/Bus tickets are also available at border, you can buy this ticket along with tram ticket from Thai side.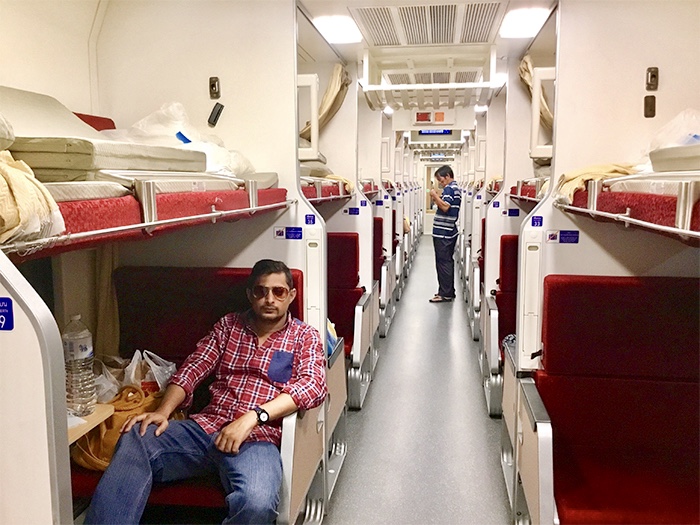 Better take overnight train from Bangkok for Thai-Laos Border. Overnight train will arrive at border in morning time and you will find immigration office opened, so you don't need to wait. If you take morning train you will arrive at border at night time and you will find immigration closed and you will have to stay at border until morning.
I spent fifteen (15) days in Laos and it was a great travel experience. Laos is a poor and beautiful country. You can easily find cheap accommodation and food country-wide. After one week stay in Vientiane, I took overnight bus for Pakse. Another one week stay in Pakse was also nice.
When I finished my Laos trip and I was traveling to Cambodia by road then I faced a bad experience at Laos-Cambodia border. Cambodia refused to give entry and Cambodia Immigration forced Laos Immigration to cancel my Exit Stamp on my passport. But later it came in my knowledge that it didn't happen only to me.
Why Cambodia Forced Laos Immigration to Cancel my Exit Stamp?
Actually, I was traveling from Laos to Cambodia by road. I was all set, I had single entry sticker visa for both countries Laos & Cambodia. Laos visa has been used and Cambodia visa was to be used at border.
First thing is first, I booked a seat in a bus from a local tour operator a day before and next day they picked me from my hotel in Pakse city in Laos for Laos-Cambodia border. It was about two hours and thirty minutes' drive from Pakse city to border. Finally, I was reached at border and walked to Laos immigration for Exit stamp. Without any question they checked my passport/visa and put exit stamp on my passport. I started walk to Cambodia immigration which was about five minutes' walk from Laos Immigration.
Here starts my bad experience! After five minutes' walk outside Cambodia immigration building, two security officials were performing their duties, they looked at me and asked me "Where are you from?" I answered Pakistan, again they asked, "Do you live in Cambodia?" I answered No, I'm coming for tourism purpose, they smiled, looked at each other and said "Okay Go Ahead!", I predicted there is something they know but I don't!
Well, I was keep moving and reached Cambodia Immigration building, at entrance one official asked me to pay one dollar for some kind of vaccination and I paid. Finally, I reached Cambodia immigration counter and stood in the queue.
Now it was my turn! I gave him my passport. He checked my passport and visa and returned my passport and asked me to "step aside please". It is usual for us due to low passport ranking, wherever we go first time they ask some questions before they give entry to avoid illegal immigrants. So, I was normal and always ready for questions.
After few minutes, one immigration person came out, he took my passport and asked me "Do you have visa or you intend to get visa on arrival which is not available for Pakistani citizens?" I answered I already obtained visa from Cambodia embassy in Vientiane, Laos. He checked my passport and visa and said "Mr. Even you have visa, you can't come Cambodia by border, you have to take a flight because we don't have advance machine on border to check Passport's authenticity". Now I was little worried! I asked him can you please have a look at my passport, it's full of visas and I have traveled many countries, I been Singapore eight times on same passport. He looked at me and said "Still you can't come Cambodia from border and this is our law for some of the countries including Pakistan and this is final."
You know what? My Laos single entry visa was used and Cambodia refused to give entry. I was stuck in "No Man's Land". For a minute I was wondering maybe I will have to stay here for life because no way to go home. 🙂
I explained same to immigration official, he said "That's not a problem". He asked somebody to come with me back to Laos Immigration where I got Exit Stamp on my passport.
We started walking and again same two persons who were smiling when I was coming to Cambodia Immigration, now they were smiling again (episode 2). I had no choice other than smiling back. But I was satisfied at-least I used their toilet in Cambodia :-).
After five minutes' walk we reached back to Laos Immigration building, person who came with me, he explained them the situation and they put cancelled stamp on my exit stamp they put a while ago and I was back to Laos again.After one hour wait at Laos Immigration building, I managed to get a bus for Pakse. I stayed in same hotel and bought flight to Siem Reap for after three days.
Three days later, at Pakse airport I met with two girls same happened to them, they got same canceled stamp on their passports and they were from Morocco. Later, it came to my knowledge that they are doing this with Muslim only!
Upon arrival at Siem Reap airport, Cambodia they asked me to show money, return air ticket and hotel booking then they gave entry.Nobody told me about this prior this experience, not even Cambodian embassy people informed me but I have shared my personal Cambodia travel experience so if you intend to visit Cambodia then better Fly!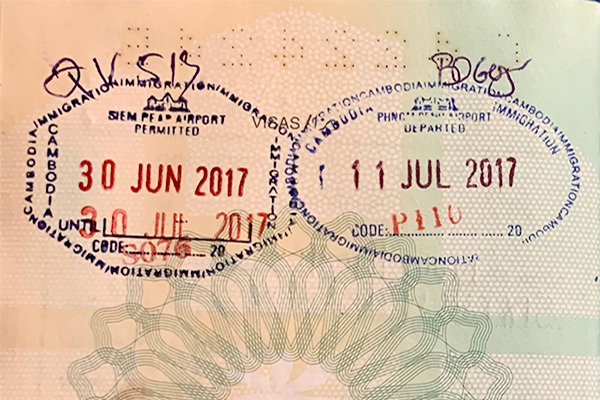 And before you take a flight for Cambodia you must hold $600 to $1000 cash, return/onward confirmed air ticket and hotel/hostel booking.
---
If you have any other questions, please let me know in the comments section below. And share this information with your friends and family if you want.