How to get Canada Visa on Pakistani Passport?
Canada offers visitor visa for tourism and other short term visit purposes. Canada visa application can be submitted online or at any of the authorized Visa Application Centers in Islamabad, Lahore and Karachi. Fingerprint biometrics, digital photo will be taken at the Visa Application Center.

Required Documents
Covering Letter
Visa request letter and travel plan.
Visa Application Form
Fill visa form, separate for each applicant. Fill Form for Paper Application or Apply Online
Photograph
Two recent photos, not more than 6 months old. Write applicant's name and date of birth in English on back of the photographs.
Original Passport
Passport must be valid for at least six months and have at least two blank pages.
Passport Photocopies
Photocopies of all pages of previous and expired passports. One photocopy of bio-data page of current passport.
CNIC/ID Card
CNIC copy on A4 size paper.
Letter from Employer for salaried person
Letter of employment, which should include your position, salary, hire date and the approved leaves from office. If you are dependent (House Wife, Student or Child) then provide an evidence of husband or father's employment.
Documents for Business Person
Company registration certificate, three years tax returns, company bank statement with optional recommendation letter from chamber of commerce.
Bank Statement
Personal last six months bank statement with account maintenance certificate.
Flight Reservation
Flight reservation only of your trip.
Hotel Reservation
Hotel reservation only, OR if you are staying with your Sponsor then attached Invitation Letter, Passport copy of the sponsor. If sponsor will financially support then attach Bank Statement of the sponsor of last 6 months.
Travel Health Insurance
Valid health insurance with coverage of at least 50,000 CAD or equivalent in other major currency. (Don't worry this is not expensive, this may cost you around Rs: 2,000 to 5,000 only.)
Supporting Documents
Any other supporting document showing your strong ties to Pakistan, eg: Property Documents, etc.
FRC / B Form
Copy of Family Registration Certification and of "B" Form issued from Nadra, if traveling with family.
Underage Traveling Alone
Children under age of 16 who are traveling alone must provide consent of both parents. If there is a minor with subject of custody order, evidence of custody and the other parent's consent must also be provided. If only one parent is traveling with a minor child, a letter of consent from the other parent allowing the child to travel is required.
Covid-19 Related for All Visas
Vaccination Certificate
Travelers must be fully vaccinated with accepted vaccines and proof of verifiable covid-19 vaccination certificate with QR code. Travellers can travel after 14 days days of second dose.
Click Here for covid-19 updates and accepted vaccines.

Click Here to know more about Canada's Visitor Visa and latest updates.

Click Here for VFS Global appointment.
Visa Fees
Visitor Visa (Single/Multiple Entry): $100 CAD
Note: Above is for visa fee only and can be changed at any time. Visit Visa Application Center's website for their service charges as mentioned above.

Processing Time
Minimum 69 working days,
but may take longer.
Plan your trip accordingly.
Accepted Vaccines
AstraZeneca
Bharat Biotech
Janssen/Johnson & Johnson
Moderna
Novavax
Pfizer
Sinopharm
SinoVac CoronaVac)
Canada Embassy in Islamabad
Phone: (051) 2086000 / Toll Free: 0800-00-226
Fax: (051) 2086900
E-mails: isbad@international.gc.ca
Timings: 09:00am – 05:00pm (Mon-Fri)
Address: Diplomatic Enclave, Sector G-5, Islamabad
Website: Click to Open
Canada Consulate in Karachi
Phone: (021) 35610685 / Fax: (021) 3561-0673 – 4
E-mail: honcon@avari.com
Timings: 09:00am – 05:00pm (Mon-Fri)
Address: Honorary Consulate, Beach Luxury Hotel, M.T. Khan Road, Karachi
Website: Click to Open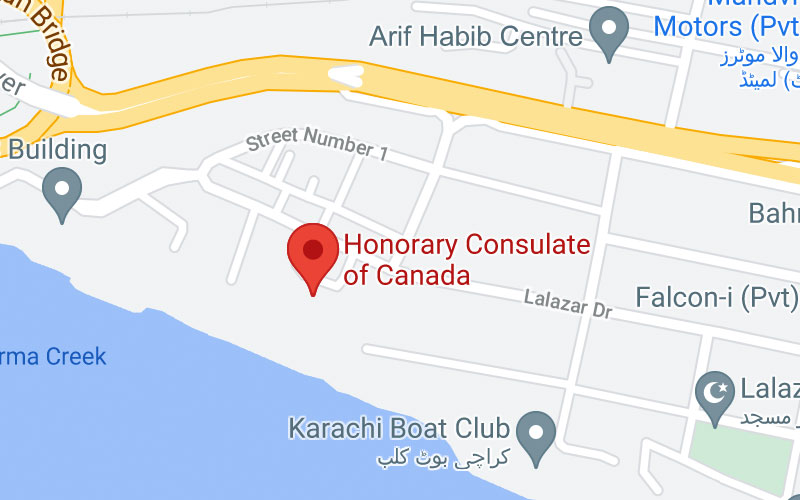 Visa Application Centers
Islamabad: Gerrys Building, Adjacent to Punjab Cash and Carry, Park Road, Chattha Bakhtawar, Chak Shahzad, Islamabad
Karachi: Bahria Complex IV, 4th Floor, Main Chaudhary Khaliq Uz Zaman Road, Gizri, Clifon, Karachi
Lahore: 20 Ex American Centre Buidling, Opposite Ganga Ram Hopsital, Queens Road, Lahore
Phone: (051) 8439344 – 0900-07860 (from landline) or 9999 (from mobile)
Timings: 09:00am – 05:00pm (Mon-Fri)
E-mail: infocanadaisb@vfshelpline.com
Website: https://visa.vfsglobal.com/pak/en/can/
---
Short Intro of Canada
Canada is a country in North America region. Canada has three territories and ten provinces, extend from the Atlantic to the Pacific and northward into the Arctic Ocean, it's covering 9.98 million square kilometres, Canada is the world's second largest country by total area. Canada's southern and western border with the United States, stretching 8,891 kilometers (5,525 miles), is the world's longest bi-national land border. Canada's capital is Ottawa, and it has three largest metropolitan areas are Toronto, Montreal, and Vancouver.
Capital: Ottawa
Dialing code: +1
Currency: Canadian Dollar
Cities of interest: Ottawa, Banff, Vancouver, Niagara Falls, Quebec City, and more
Official language: French, English
Tourism in Canada
Canada has exciting Tourist attractions and Travel Destinations. Most of the country's tourism is centred around Canada's four largest cities, Ottawa, Vancouver, Montreal, and Toronto, these are well known for their culture, diversity, as well as the many national parks and historic sites.
Places to See in Canada
Ottawa
Banff
Niagara Falls
Vancouver
Quebec City
Jasper National Park
Montreal
Victoria & Vancouver Island
Prince Edward Island
If you have short time then you can visit any of above in bold text.
---
Travel Tips
Free Hotel Booking
Watch this video to know how to get Free Hotel Booking or Reservation for Visa Processing.
---
Flight Reservation for Canada Visa
Watch this video to know how to make flight reservation for Canada Visa application.
---
If you have any other questions, please let me know in the comments section below. And share this information with your friends and family if you want.