How to get Russia Visa on Pakistani Passport?
Invitation letter and step-by-step Russian visa process is described in this visa guide. Russian invitation letter can be obtained online and visa can be applied at the Russian Embassy in Pakistan.

Required Documents
Invitation Letter
Invitation letter can be obtained from this website. Click to Open Website
Covering Letter
Visa request letter.
Visa Application Form
Duly filled online and printed visa application form. Click to Open Online Form
Photograph
Two coloured recent photographs.
Original Passport
Passport must be valid for at least six months and have at least two blank pages.
CNIC/ID Card
CNIC copy on A4 size paper.
Letter from Employer
Letter of certification of employment, describing applicant's job duration of service, income etc.
Bank Statement
Original bank statement with account maintenance certificate.
Flight Tickets
Two way confirmed ticket with fixed dates.
FRC
Family Registration Certificate from NADRA.
Police Character Certificate
Original Police Character Certificate with the contact number of issuing authority.
Travel Health Insurance
Medical insurance valid in Russia not less than 50,000 EUR (original and copy). (Don't worry this is not expensive, this may cost you around Rs: 2,000 to 5,000 only.)
For Tourism Purpose
Original Tourist Voucher and Original Tourist Confirmation (in Russian language) of acceptance from a Russian travel agency or a hotel (not a booking), registered with the Russian Ministry of Foreign Affairs. The confirmation must contain the agency's reference number and registration number.
All tourist visa applicants shall be personally interviewed. At the time of interview, the applicant must provide complete information about the host party, payment of tourism services and hotel accommodation, itinerary of the travel including all addresses of the expected stay, date of the last trip to the Russian Federation (if applicable), two way confirmed tickets with fixed dates.
Visa Fees
Single Entry Visa: Rs: 12,400
Urgent Single Entry Visa: Rs: 24,800
Double Entry Visa: Rs: 19,840
Urgent Double Entry Visa: Rs: 39,680
Multiple Entry Visa: Rs: 37,200
Urgent Multiple Entry Visa: Rs: 74,400
Note: Visa fee can be changed at any time.
Processing Time
Urgent applications can take minimum three working days, and normal visa applications can take minimum a week, in some cases this period can be extended. It is advisable to apply for a visa in advance for at least 30 days of your travel.
Russia Embassy in Islamabad
Phone: (051) 2600813 / Fax: (051) 2600827
E-mails: islamabad@dks.ru, pakistan@mid.ru
Timings: 11:00am – 2:00pm (Mon & Wed)
Address: 44000, Diplomatic Enclave, Khayaban-e-Suhrawardy, G-4
Website: https://pakistan.mid.ru/en/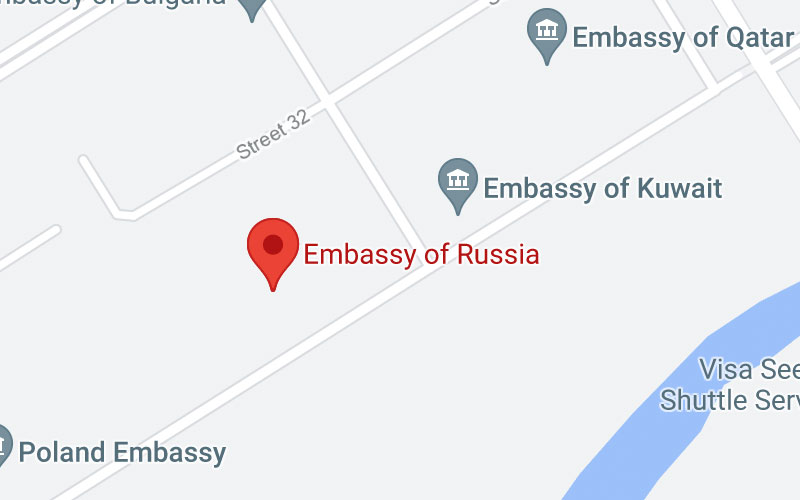 Russia Consulate in Karachi
Phone: (021) 35861336
E-mail: rfconsul@gmail.com
Timings: 11:00am – 02:00pm (Mon & Wed)
Address: Plot No. Fl-1, Block-4, Scheme-5, Clifton, Karachi
Website: https://karachi.mid.ru/en/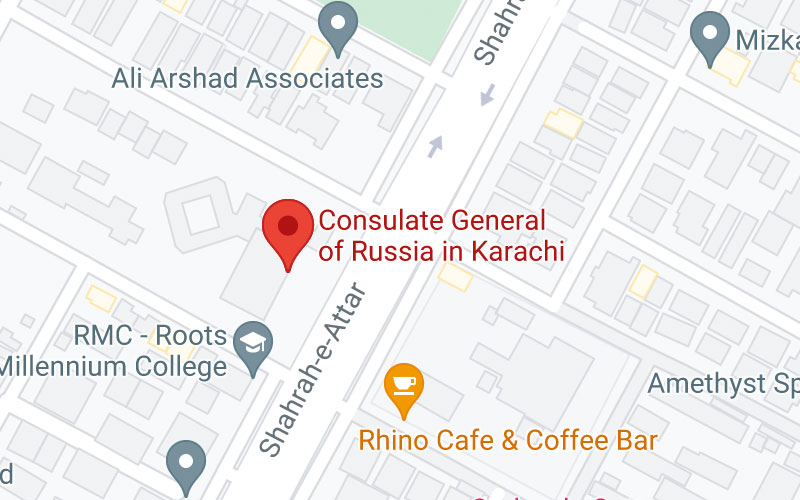 ---
Short Intro of Russia
Russia, or the Russian Federation, is a country in Eastern Europe and Northern Asia. Russia is the largest country in the world covering over 17 million square kilometres and encompassing more than one-eighth of Earth's inhabited land area.
Capital: Moscow
Dialing code: +7
Currency: Russian ruble
Cities of interest: Moscow, Saint Petersburg, Novosibirsk, Yekaterinburg, Kazan, and more
Official language: Russian
Tourism in Russia
Tourism in Russia, or the Russian Federation, has seen rapid growth since the late Soviet times, including domestic and international tourism. Russia's rich cultural heritage and great natural variety places are the most popular tourist destinations in the world.
Places to See in Russia
Moscow
Saint Petersburg
Novosibirsk
Yekaterinburg
Kazan
Nizhny Novgorod
Chelyabinsk
Samara
If you have short time then you can visit above in bold text.
---
Travel Tips
Free Hotel Booking
Watch this video to know how to get Free Hotel Booking or Reservation for Visa Processing.
---
Cheapest Flight Ticket
Watch this video to know how to find Cheapest Flight Ticket for any City of any Country.
---
If you have any other questions, please let me know in the comments section below. And share this information with your friends and family if you want.