How to get Romania Visa on Pakistani Passport?
Romania short term Tourist Visa process is very simple. Romania Visa can be obtained from Embassy of Romania in Islamabad or Consulate of Romania in Karachi.

Required Documents
Covering Letter
Visa request letter.
Visa Application Form
Dully filled visa application from. Download Form
Two Photographs
2 recent colour photos 3 cm x 4 cm, on a white background.
Original Passport
Passport valid at least three months beyond intended period of stay.
CNIC/ID Card
CNIC copy on A4 size paper.
Letter from Employer
Letter of certification of employment, describing applicant's job duration of service, income etc.
Bank Statement
Original bank statement with account maintenance certificate. Proof of financial means in the amount of EUR 50/day for the entire period, but not less than EUR 500 or the equivalent in convertible currency.
Flight Booking
Booking of a two-way flight ticket to and from Romania.
Hotel Booking
Proof of accommodation, as a voucher of paid accommodation at a tourism unit.
Travel Health Insurance
Medical insurance valid in Romania, covering one day longer beyond the intended period of stay and of a value not less than 50,000 EUR (original and copy).(Don't worry this is not expensive, this may cost you around Rs: 2,000 to 5,000 only.)
Polio Certificate
Polio vaccination certificate.
Invitation Letter
Invitation Letter can be obtained from tour operator in Romania for tourism purpose. (if applicable)
50,000 EUR Travel Health Insurance is just a coverage. This is not expensive, this may cost you around Rs: 2,000 to 5,000 only.
Visa Fees
Tourist Visa: USD: $80
Note: Visa fee can be changed at any time.
Processing Time
Normal processing time is two weeks, but may take longer than usual.
Accepted Vaccines
Pfizer
Moderna
AstraZeneca
Johnson & Johnson
Sinopharm
CoronaVac (SinoVac)
Romania Embassy in Islamabad
Phone: (051) 8436662 / (051) 8441476
Fax: (051) 8441471
E-mails: islamabad@mae.ro
Timings: 09:00am – 05:00pm (Mon-Fri)
Address: House No. 5-A, Street No. 30, Sector F-7/1
Website: Click to Open Website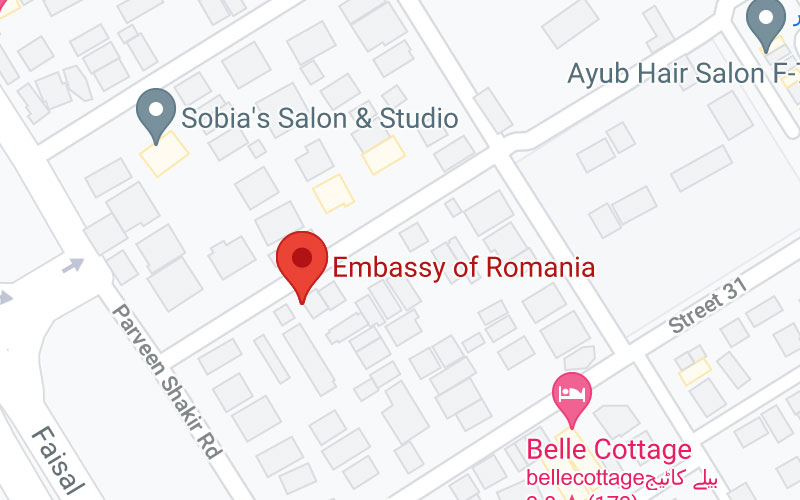 Romania Consulate in Karachi
Phone: (021) 35685454 / (021) 35694569
Fax: (021) 35693775 / (021) 35658998
E-mail: romaniaconsulatekarachi@yahoo.com
Timings: 09:00am – 05:00pm (Mon-Fri)
Address: 8th Floor, Sheikh Sultan Trust Building, Beaumont Road Civil Lines, Karachi
Website: Click to Open Website
---
Short Intro of Romania
Romania is a southeastern European country known for the forested region of Transylvania, ringed by the Carpathian Mountains. Romania is one of the countries where English is very well understood and spoken. The national capital is Bucharest.
Capital: Bucharest
Dialing code: +40
Currency: Romanian leu
Cities of interest: Bucharest, Sighisoara, Sibiu, Brasov, Painted Monasteries, Sinaia and more
Official language: Romanian, English
Tourism in Romania
There are many reasons to visit Romania and top attractions of Romania are medieval castles mixed with royal or communist sights ( also known as the famous Bran Castle or Peles Castle), lots of natural parks and attractions spread across the wild Carpathian Mountains, unique attractions such as Turda Salt Mine, the UNESCO Danube Delta reserve or the famous Transfagarasan Highway.
Places to See in Romania
Bucharest
Sighisoara
Sibiu
Brasov
Painted Monasteries
Sinaia
Timisoara
Mamaia
Cluj-Napoca
Danube Delta
If you have short time then you can visit above in bold text.
---
Travel Tips
Free Hotel Booking
Watch this video to know how to get Free Hotel Booking or Reservation for Visa Processing.
---
Cheapest Flight Ticket
Watch this video to know how to find Cheapest Flight Ticket for any City of any Country.
---
If you have any other questions, please let me know in the comments section below. And share this information with your friends and family if you want.