How to get Ukraine Visa on Pakistani Passport?
Ukraine offers short-term visa (type C) to visit Ukraine for tourism purpose. Ukraine's short-term visa can be obtained from appointed Visa Application Center or Embassy or Consulate General of Ukraine in Pakistan.

Required Documents
Covering Letter
Visa request letter.
Visa Application Form
Completed and signed Visa Application Form. Visa application forms of minors shall be submitted for each person and signed by a parent or legal guardian. For application process Visa Application Forms should be submitted online. Submit Online Form
Photograph
One coloured photo 35 mm x 45 mm
Original Passport
Passport must be valid for at least three months after the stated date of departure from Ukraine and have at least two blank pages.
CNIC/ID Card
CNIC copy on A4 size paper.
FRC
FRC by Birth & FRC By Marriage if married.
Bank Statement
Original bank statement with account maintenance certificate. Proof of the sufficient financial means for the intended period of stay and return to the country of origin, or transit to a third country, or the possibility to legally obtain sufficient financial means on the territory of Ukraine (at the rate of 750 USD per 15 days stay).
Travel Health Insurance
Valid health insurance with covid-19 coverage of at least 30,000 EUR or equivalent in other currency. When multi-entry visa is requested, availability of health insurance valid for the first intended visit to Ukraine shall be considered. (Don't worry this is not expensive, this may cost you around Rs: 2,000 to 5,000 only.)
For Tourism Purpose
Documents confirming that the purpose of travel is tourism OR reference/invitation letter for purpose other than tourism.
IF EMPLOYEE
Letter from Employer, describing applicant's job duration of service, income etc.
IF BUSINESS PERSON
– Company Registration Certificate
– FBR Certificate & Last 3 Years' NTN
– Letter from Chamber of Commerce (optional)
IF TRAVELING WITH FAMILY
– MRC – Marriage Registration Certificate
– Birth Certificates of Child(ren)
– Form "B" (if applicable)
Covid-19 Related
Vaccination Certificate
Travelers must be fully vaccinated with accepted vaccines and proof of verifiable covid-19 vaccination certificate with QR code. Travellers can travel after 14 days of second dose.
PCR Test
PCR test taken within 72 hours before arrival.
30,000 EUR Travel Health Insurance with Covid-19 coverage is required and this is just a coverage. This is not expensive, this may cost you between Rs: 2,000 and 5,000 only, cost depends on duration of stay.
Visa Fees
Short Term (Single Entry) Visa: $165
Short Term (Double Entry) Visa: $255
Short Term (Multiple Entry) Visa: $395
Note: Visa fee can be changed at any time.
Processing Time
Normally up to ten working days, in some cases this period may be extended up to 30 working days.
Accepted Vaccines
Pfizer
Moderna
AstraZeneca
Johnson & Johnson
Sinopharm
Sputnik V
Ukraine Embassy in Islamabad
Phone: (051) 2608966
Fax: (051) 2608967
E-mails: emb_pk@mfa.gov.ua
Timings: 09:00am – 05:00pm (Mon-Fri)
Address: House 4, Street 5, sector F – 7/3, Islamabad
Website: pakistan.mfa.gov.ua/en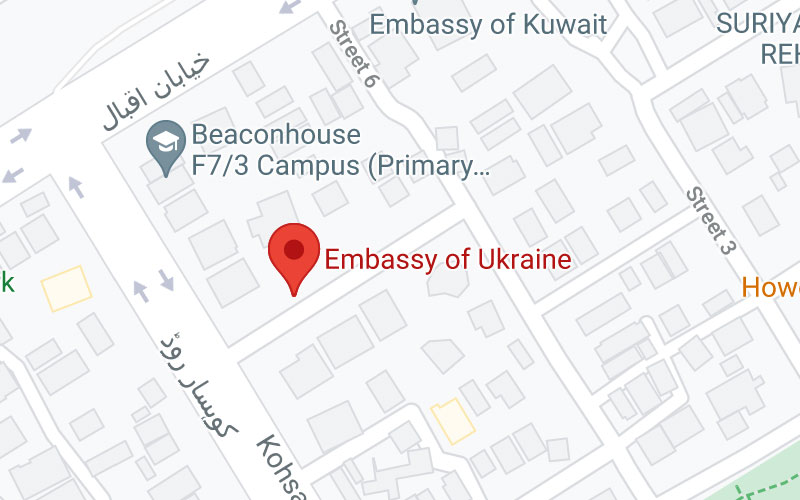 Ukraine Consulate in Karachi
Phone: (021) 32733000 / Fax: (021) 32720419
E-mail: emb_pk@mfa.gov.ua (Same as ISB)
Timings: 09:00am – 05:00pm (Mon-Fri)
Address: 108/II, 5th Street, Off. Kh-e-Muhafiz, DHA, Phase-VI, Karachi
Website: pakistan.mfa.gov.ua/en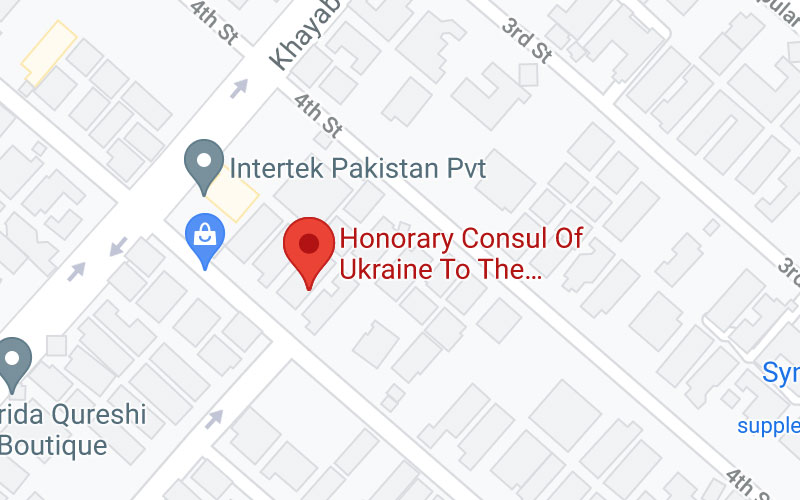 Visa Application Centers
Islamabad: Gerrys Building, Adjacent to Punjab Cash and Carry, Park Road, Chattha Bakhtawar, Chak Shahzad, Islamabad
Karachi: Bahria Complex IV, 4th Floor, Main Chaudhary Khaliq Uz Zaman Road, Gizri, Clifon, Karachi
Lahore: 20 Ex American Centre Buidling, Opposite Ganga Ram Hopsital, Queens Road, Lahore
Phone: 0900-07860 (from a landline) or 9999 (from a mobile)
Timings: 09:00am – 05:00pm (Mon-Fri)
E-mail: infoukrainepk@vfshelpline.com
Website: www.ukrainevisa-pakistan.com
---
Short Intro of Ukraine
Ukraine is a country in Eastern Europe. Ukraine is the second largest country in Europe after Russia, which it borders to the east and north-east. Ukraine also shares borders with Poland, Slovakia, and Hungary to the west; Belarus to the north; Romania and Moldova to the south; and has a coastline along the Sea of Azov and the Black Sea.
Capital: Kyiv
Dialing code: +380
Currency: Ukrainian hryvnia
Cities of interest: Kyiv, Lviv, Odesa, Kharkiv, Dnipro, and more
Official language: Ukrainian
Tourism in Ukraine
Ukraine is a safe country for travellers. Popular destinations in the country like the capital Kiev and the coast town Odesa are calm and enjoyable. As the second largest country in Europe, Ukraine offers many attractions for tourists, including festivals celebrating its rich culture and awesome selection of centuries' old architecture.
Places to See in Ukraine
Kyiv
Lviv
Odesa
Kharkiv
Dnipro
Zaporizhzhia
Timisoara
Uzhhorod
Vinnytsia
If you have short time then you can visit above in bold text.
---
Travel Tips
Free Hotel Booking
Watch this video to know how to get Free Hotel Booking or Reservation for Visa Processing.
---
Cheapest Flight Ticket for Ukraine
Watch this video to know how to find Cheap Flight Ticket for any city of Ukraine.
---
If you have any other questions, please let me know in the comments section below. And share this information with your friends and family if you want.